BRIAN OLIVE'S TWO OF EVERYTHING IS EVERYWHERE
*** ALBUM RELEASED THIS WEEK (6/7)
ON ALIVE NATURALSOUND ***
*** FULL ALBUM STREAM ALL WEEK AT AOL SPINNER ***
*** "Left Side Rock" MP3 Giveaway this week (6/9)
at AOL SPINNER ***
"Who is this guy? Some long-lost psychedelic rocker from a never-released Nuggets box? A New Orleans hepcat emerging like a hip-shaking chupacabra from a swamp of sonic voodoo?"
– The Nashville Scene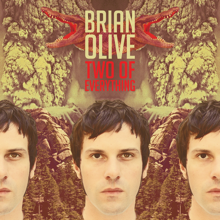 Cincinnati-based Brian Olive (ex-Greenhornes, ex-Soledad Bros) sees the release of his amazing second solo album, 
Two of Everything,
 this week on the Alive Naturalsound label. Co-produced by the Black Keys' Dan Auerbach, the album, and this week may prove to be career defining. AOL Spinner will be 
streaming the new album all week
beginning today. The album itself will be released in digital, vinyl and compact discs formats on Tuesday, June 7. And on Thursday, June 9, the lead track, and first track on the album, "Left Side Rock," will be given away on Spinner as 
an MP3 of the Day
. A video for "Left Side Rock" is just around the corner as well. To top it all off, Olive will be playing with the legendary Dr. John at this week's Bonnaroo Festival.
Recorded and Produced by both Olive and Dan Auerbach at The Diamonds in Cincinnati and Easy Eye Sound in Nashville, T.O.E. features a revolving cast of talent including long time right hand man behind the throne Mike Weinel, Detroit psychedelic caveman David Shettler, Daniel Allaire, Jared McKinney and a chorus of real live angels and witches on backing vocals.
Musically the emphasis here is on groove, which never looses site of the song's bigger pictures. The rhythm tracks never merely hold the songs down but are rather an integral part of their tapestry. A variety of percussion rubs up against fuzzy synthesizers, hip hop bass lines, new Orleans second line snares, wailing voices, brass lines and flutes; sometimes all in one song. Maybe the most important component is Olive's rich and varied dream soaked voice that guides listeners through this trip of mind fields, stars, and heavens.
There's not many artists out there these days pushing things forward and doing so with such great songs and clarity of sound vision. Olive's Two Of Everything is a direct hit to mundane re-treads of any of today's musical genres. Get in line and go to school.
New tour dates to be announced soon!
"…marvel at how effortlessly and engagingly this artist, with his excellent voice and clever arrangements, recaptures the lost art of the hit single."
– Birmingham Black & White
LINKS