** Canny Bronx Native MAX BURGUNDY Drops His Hip Hop Debut EP Waiting **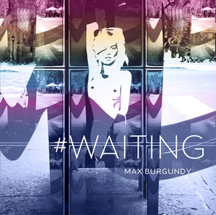 New York, NY – Max Burgundy might just be what contemporary hip hop needs. Hailing from the streets of the Bronx and currently living in Brooklyn, Burgundy's sound is a fresh combination of city flair and articulate, songwriter artistry. His raw and colorful style, along with his ability to blend genres, has already earned Burgundy comparisons to successful hip hop peers including Polaris Music Prize nominee Shad and the legendary Del the Funky Homosapien.
As demonstrated on his debut EP Waiting,Burgundy's addictive beats are consistently and cleverly highlighted by bright lyrics, making his material a helix of sonic pleasure. On "Hey Love!" Burgundy manages to pack a steady rhythm, bright instrumental ornamentation, and a genuine story of obsession delivered by glowing vocals into a sultry four minutes. Max Burgundy's lucidity in sound will translate visually with the release of his music video for "Life Ain't Funny" in late May, directed by Oliver Irving who directed "How To Be" staring Robert Pattinson. 
Download the Waiting album here
Purchase "Hey Love" single on iTunes
here
Max Burgundy has already shared stages with artists such as the critically acclaimed Das Racist and Twin Shadow, and has collaborated with esteemed producers including OMEN (Drake, Lil Wayne, Ludacris) and KHRYSIS!!! (9th Wonder, The Away Team, Little Brother). With his resume already reaching the rafters and his craft demonstrating his unparalleled stylistic abilities, Max Burgundy is sure to secure the attention of an audience as unique and diverse as he is.

Shows:
May 12th – New York, NY – Arlene's Grocery