For immediate release: April 20, 2011
CULPRIT OFFER FREE DOWLOAD OF
"STRANGERS" ON ABSOLUTE PUNK HERE:
NEW EP "ANALOGUE" OUT 4/20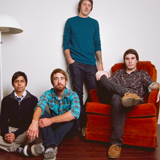 California unit,
Culprit
 have made new song "
Strangers
" an Absolute Exclusive download with
Absolute Punk
.  The song is from the band's forthcoming EP 
Analogue
 which will be released on 4/20 (pre-order link above).  Produced by Erik Ron (Panic At The Disco, Versa Emerge).  The music rests comfortably in the nook of spacey and driving, delivering the energy and technicality of post-hardcore and merging it with the hooks and melodicism of Brit rock.  Hailing from the San Fernando valley, CA (ten minutes from Hollywood), the band has been building a rabid fan base through their home state, playing up and down the coast with such culprits as 
Everclear
,
The Higher
, 
The Dangerous Summer
, 
InAviate
 and 
Sherwood
. 
Recent Press:
"unique mix of strong, impassioned vocals and spacey, energetic instrumentals.  Many of the songs on the 
Analogue EP
 feature extremely memorable choruses and instrumentals separating them from the rest of the pack." – 
Mind EqualsBlown.net