Dale Earnhardt Jr. Jr. Offers First Track off Debut LP


It's A Corporate World, 

Out June 7 

National Headlining Tour Date

s 

Announced + SXSW


KCRW Morning Becomes Eclectic Performance




"White hot band of the moment" – 

BrooklynVegan


"an inspired mix of hip-hop and folk"- NPR's All Songs Considered
"Whether Dale himself would approve of his imaginary progeny is hard to predict, but there's little doubt [Daniel] Zott and [Joshua] Epstein will come through as winners when critics compile their best-of lists of 2010." – KEXP Live Session
 (Watch 
here
!)
Stream Dale Earnhardt Jr. Jr.'s "Morning Thought" off It's A Corporate World

                                                                                                                  Photo Credit: Jeff Snow

Listen to the Dale Earnhardt Jr. Jr. Remix of Junip's "In Every Direction"
via Soundcloud  (Available to Post)
Detroit indie-pop duo 
Dale Earnhardt Jr. Jr.
 have released "
Morning Thought,
" the first track off their anticipated full-length debut, 
It's A Corporate World,
 now set for a
 June 7
 release through
 Quite Scientific Records
. The band is currently touring with 
Tapes 'n Tapes
 down through this year's
 SXSW,
 stopping at
 

KCRW

along the way for a live performance with 
Morning Becomes Eclectic
 on 
Monday, March 14th
 (tune in at 11:15am PST). The band will then continue across the country on a headlining tour starting in May.
It's A Corporate World follows the band's breakout Horse Power EP and My Love Is Easy: Remixes Pt. 1, featuring remixes from Deastro, Prussia and more. A double EP on vinyl will be made available for the first time and sold on tour, featuring the Horse Power EP on the front, My Love Is Easy: Remixes Pt. 1 on the back, and comes complete with a pair of Chroma-Depth 3D glasses!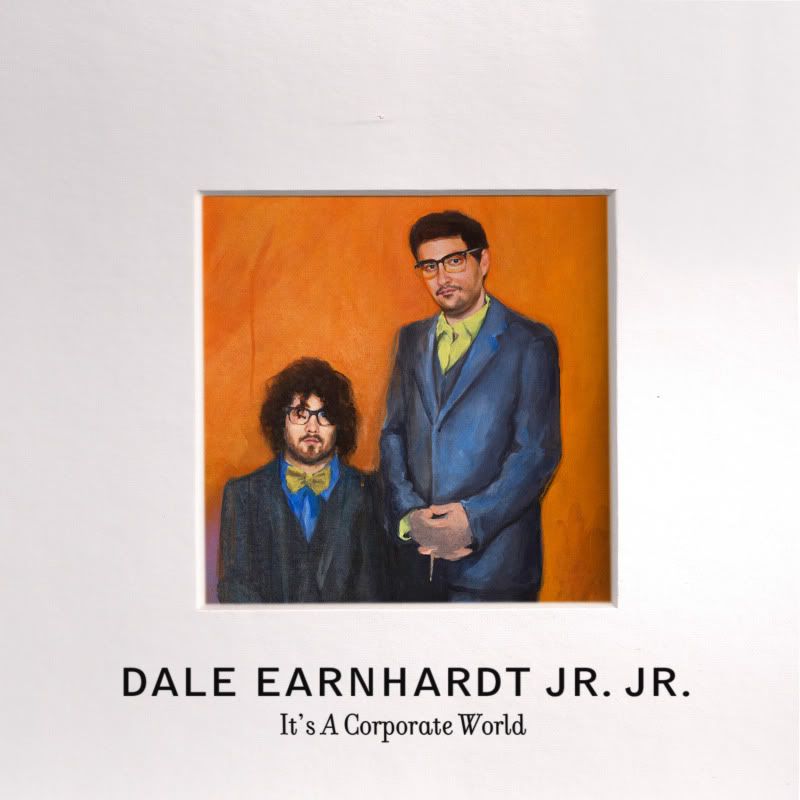 Dale Earnhardt Jr. Jr. on Tour
Mar 9 – Doug Fir Lounge – Portland, OR *
Mar 11 – Bottom of the Hill – San Francisco, CA *
Mar 12 – Troubadour – W. Hollywood, CA *
Mar 14 – @ 11:15am – KCRW Morning Becomes Eclectic
Mar 14 – Cellar Door – Visalia, CA *
Mar 16 – SXSW – @ 9pm – The Phoenix / KCRW Showcase
Mar 17 – SXSW – @ 12pm – Stage On Sixth / PASTE Party
Mar 18 – SXSW – @ 4pm – La Condesa / Black Iris Party
Mar 19 – SXSW – @ 2:30pm – Stubb's / Rachael Ray Party
Mar 20 – Stickyz – Little Rock, AR
Mar 22 – Mojo's – Columbia, MO
Mar 23 – The Bilken Club – St. Louis, MO
Mar 25 – Schubas – Chicago, IL
* with Tapes 'n Tapes
May 11 – Mercury Lounge – New York, NY
May 12 – The Rock Shop – Brooklyn, NY
May 13 – The Red Palace – Washington, DC
May 14 – Kung Fu Necktie – Philadelphia, PA
May 17 – IOTA Club & Cafe – Arlington, VA
May 18 – The Camel – Richmond, VA
May 19 – Local 506 –  Chapel Hill, NC
May 21 – The Basement – Nashville, TN
May 24 – Bottletree – Birmingham, AL
May 25 – Proud Larry's -Oxford, MI
May 26 – Fitzgerald's – Houston, TX
May 27 – Club DaDa – Dallas, TX
May 28 – Emo's Alternative Lounge – Austin, TX
May 31 – Santa Fe Brewing Company – Santa Fe, NM
Jun 01 – Rhythm Room – Phoenix, AZ
Jun 03 –  The Echo – Echo Park, CA
Jun 04 – Rickshaw Stop – San Francisco, CA
Jun 06 – Mississippi Studios – Portland, OR
Jun 07 – The Tractor Tavern – Seattle, WA
Jun 09 – The Neurolux – Boise, ID
Jun 10 – Kilby Court Gallery – Salt Lake City, UT
Jun 11 – Hi-Dive – Denver, CO
Jun 15 – 7th Street Entry – Minneapolis, MN
For more info, please visit:
http://www.daleearnhardtjrjr.com
http://www.myspace.com/daleearnhardtjrjr