Gavin Friday Returns With "catholic"
May 17th (digital) and July 26th (physical)
First album in 16 years
"The night he fell in the Mouth of the Flowers… a dark medal of blood slowly forming near the general's unmoving head. He was dressed in green. In his fading iris, the moon — and the future of the indefeasible Republic. The Angelus bell pealed and the sky flared as the British guns fired a salute in his honour." –Requiem for the Fallen, Patrick McCabe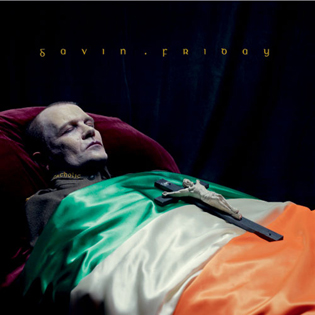 16 years since his last album, it's time to salute anti-hero Gavin Friday, who returns to form with his new album catholic which will be released in North America on May 17th (digital) and July 26th (physical) on MB3 Records/EMI Music.

Fittingly enough, catholic comes to us at a global time of upheaval, of political chaos, and of spiritual, financial and moral bankruptcy. In personal terms, Friday has endured illness, the end of his marriage and his father's death. To some, the personal is political; but Gavin Friday is clear that this is "an emotional, not a political, album". Friday turned 50 prior to recording catholic and the songs testify to a life lived, but one that's far from over – physically or creatively – which is clearly put forth in the lead single, "Able".

In recent years, Gavin Friday's career has been dominated by cinema, soundtrack and theatre, so its no surprise that their collective, lush shadow looms over catholic. To get a mere grasp of Friday's career spanning four decades, one simply has to take a look at the list of artists who performed at his 50th birthday concert thrown in his honor at Carnegie Hall: Laurie Anderson, Antony, U2, Flo & Eddie, Bill Frisell, Scarlett Johansson, Courtney Love, Lydia Lunch, Maria McKee, Shane MacGowan, Eric Mingus, JG Thirlwell, Lydia Lunch, Lou Reed, Martha & Rufus Wainwright.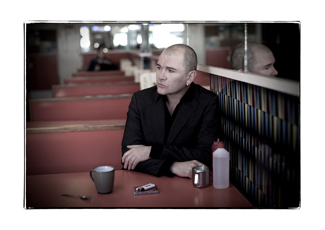 Friday still puts the same energy and passion into his work that he did as a founding member of theVirgin Prunes in 1977. The 1980's were dominated by many artistic endeavors – painting and exhibitions, writing, MC'ing his own weekly cabaret in his native Ireland, and the start of a 15 year long collaboration with pianist Maurice Seezer recording three albums under the moniker Man Seezer. The 1990's included several film scores – The Boxer, In America, Get Rich Or Die Tryin' – as well as soundtrack contributions, including "Angel" to William Shakespeare's Romeo + Juliet, Basquiat, Moulin Rouge, and three songs to In The Name Of The Father which featured two collaborations with U2's Bono ("In The Name Of The Father", "Billy Boola") and a Golden Globe nomination for Best Original Song for "You Made Me The Thief of Your Heart" as sung bySinead O'Connor.

Produced by Ken Thomas (Throbbing Gristle, Cocteau Twins, Sigur Ros), the gorgeously packaged catholic CD will also include a luscious 24 page Patrick McCabe (The Butcher Boy) novella. The singer likens catholic to "waking from a deep sleep, of letting go and coming to terms with loss". Somewhere in the middle of all that, there are slivers of love, contentment and romance.

Artist. Germanophile. Singer. Non-conformist. catholic. All are intrinsically Gavin Friday, but the latter is definitely spelt with a small 'c'.
For More Information including
Gavin Friday's  biography, new photos and to listen to "catholic"
MB3 Records launched in 2010 and is an independent record label with worldwide distribution via EMI Music and is a division of The MuseBox Inc. Other artists on MB3 Records and The MuseBox Distribution include Royksopp, Zoobombs, Head Like A Kite, Chamberlin, White Belt Yellow Tag, Elisapie, Lights On Moscow, Jess Hill, Gavin Friday, Shortwave, Scattered Trees, Kae Sun, Paper Lions, Brute Chorus, Miles Jones, Sounds Under Radio, Living Days, My Other Friend, The Oholics, and more to be announced.