GDP ANNOUNCES NEW FULL-LENGTH
"USELESS EATERS"
(March 29th, Run For Cover Records)
NEW VIDEO PREMIERE
"NEURAL CIRCUITRY"
SONG PREMIERE "QUINTUPLETS"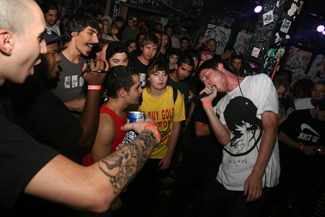 West Orange, New Jersey emcee 
GDP
 has announced his new full-length album 
Useless Eaters 
will be dropping on March 29
th
 via 
Run For Cover Records
 (Title Fight, Transit, Man Overboard).  With the announcement is a double premiere from the album including a video for the song 
Neural Circuitry
 (directed by Josh Sandler with beat produced by live electronic act 
Frozen Gentlemen
) on GDP's revamped website.  Print music and art magazine 
Alarm Press
 has also premiered the song 
Quintuplets 
today on their online site. 
Combining futuristic grime with homage to hip hop's past, Useless Eaters" is GDP's most focused effort as well as his darkest. Regarded as one of the one of the hardest working artists in hip-hop.  The album was mixed and mastered by GDP and his frequent collaborator Pistol in the midst of a 52 date national tour that he booked himself.  Aside from Frozen Gentlemen, Beats were handled by Melbourne Australia's Aoi and Perth, Australia's DOS4GW whom GDP met while supporting The RZA (Wu-Tang Clan) on Australian dates.  Appearing on the album are legendary emcees Tame One (The Artifacts) and Young Zee (The Outsidaz).
After years of relentless touring and consistent releases, GDP has gained respect from many of the same hip hop legends that inspired him growing up as well as forward thinking hardcore and punk artists. He has shared the stage with artists ranging from Wu Tang Clan, Dead Prez, Rah Digga, and Masta Ace to Trap Them, Skeletonwitch, Suburban Scum, Product Of Waste, and Dead to Me.  GDP is set to play a string of East and West Coast release shows followed by some European dates.
TOUR DATES (more to be announced shortly)
3/5- @ Cyclecide Bike Collective Death House- Hackettstown, NJ
w/ Pistol
3/10- @ Maggie McGuires- Cranford, NJ
w/ Choc Bread, St. Joe Louis
3/11- Laundromat- New Brunswick, NJ
w/ Pistol, Space Jeez, Bartlomein
3/12- @ Brick Moose Lodge – Brick, NJ
w/ Pistol, Planet Cognac, Arcade
3/15- @ Silk City- Philadelphia, PA
w/ Beam&Deem, Planet Cognac, Pistol
3/19- @ Meatlocker-Montclair, NJ
w/  Pistol, Shape, G. Wallace, Choc Bread
3/24 – @ Rockstar Bar-Brooklyn, NY
w/  Young Zee, GDP, Pistol, Shape, G. Wallace, Arcade
3/25- New London, CT @ The Oasis
3/27- Virginia Beach, VA @ Hangar
w/ Andre Nickatina
3/31- New York, NY @ 49 Grove
w/ Space Jesus, Pistol.
4/15- San Diego, CA @ Che Cafe
4/17- Sacromento @ Dcoi's
4/20- Oakland, CA @ The Hive
4/21-@ Ash Street Saloon –  Portland, OR
4/22- @ Tabu – Ashland, OR
4/23- @ Roxy's Vets Club – Shasta, CA
4/24- New York, NY @ Highline Ballroom
w/ Andre Nickatina