GDP NEW FULL-LENGTH
"USELESS EATERS" STREAMING HERE:
(cleared for posting)
BUY ENTIRE ALBUM FOR $8
SONG PREMIERED "DON'T WORRY ABOUT THE GOVERNMENT" ON ABSOLUTE PUNK!
"Useless Eaters is a dark, unhinged journey through GDP's mind, harsh while still remaining focused and mature. Dive into this one as soon as possible." ABSOLUTE PUNK REVIEW
"GDP's "Useless Eaters" likes to push the envelope. If you lick that envelope to seal it, the taste may be bitter at first, but you'll ultimately enjoy the buzz".– RAP REVIEWS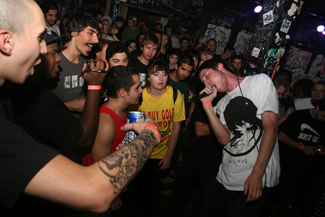 NJ emcee 
GDP
 is streaming his new album 
Useless Eaters 
on label 
Run For Cover Records
 bandpage.  Combining futuristic grime with homage to hip hop's past, 
Useless Eaters
" is GDP's most focused effort as well as his darkest. Regarded as one of the one of the hardest working artists in hip-hop.  The album was mixed and mastered by GDP and his frequent collaborator 
Pistol 
in the midst of a 52 date national tour that he booked himself.  Aside from NJ's 
Frozen Gentlemen
 producing the track 
Neural Circuitry
 (of which a video premiered last month), Beats were handled by Melbourne Australia's 
Aoi 
and Perth, Australia's 
DOS4GW
 whom GDP met while supporting The 
RZA
 (Wu-Tang Clan) on Australian dates.  Lyrical assist on the album comes from guests 
Pistol Pete
 (Slangcorp) and 
Young Zee
 (The Outsidaz, 8 Mile Soundtrack, The Fugees "The Score" album). 
TOUR DATES (more to be announced shortly)
3/31- New York, NY @ 49 Grove w/ Space Jesus, Pistol.
4/15- San Diego, CA @ Che Cafe
4/17- Sacromento @ Dcoi's
4/20- Oakland, CA @ The Hive
4/21-@ Ash Street Saloon –  Portland, OR
4/22- @ Tabu – Ashland, OR
4/23- @ Roxy's Vets Club – Shasta, CA
4/24- New York, NY @ Highline Ballroom w/ Andre Nickatina