THE PATRON SAINT OF PUNK ROCK: DEE DEE RAMONE
We're proud to unveil the patron saint of punk rock: "Saint Dee Dee". This magnificent new painting by LA artist Vicki Berndt of the immortal "Saint Dee Dee" will watch over you and protect from mediocrity in music and art.
Saint Dee Dee's robe bears the ceremonial words "One Two Three Four", (appropriately written in latin), his sacred heart wears a crown, (for Dee Dee's pseudonym "Dee Dee King"), and bleeds onto the stones clutched in his hand to form the word "Chinese" (in traditional Chinese lettering), rendering them sacramental "Chinese Rocks".
Berndt is well known for her "Big-Eye" 70's stylized paintings, and "Berndt Offerings" of pop culture icons. In an exclusive to the new Dee Dee Ramone Online Store, we've teamed with Berndt Offerings to bring you a line of very special Ltd. Ed. hand-crafted items featuring a rich reproduction of the original painting, direct from the artist herself!
Saint Dee Dee Candle
:
This beautiful, long lasting glass candle is approximately 8 inches high featuring glossy high-quality, full color art. The candle includes a small "novena" prayer saying on the back which reads … "I feel so safe flying on a ray on the highest trails above", (quoted just as it reads on Dee Dee's headstone at the Hollywood Forever Cemetery in LA, CA), with Dee Dee's facsimile signature directly beneath his quote.
Saint Dee Dee Rosary Beads:

This beautiful rosary will help you to maintain and strengthen your daily spiritual relationship with Saint Dee Dee Ramone. The beaded chain is approximately 26 inches long. The cross and frame that holds the artwork are each 1.5 inches high. The entire rosary is made from silver toned metal and beads.

Saint Dee Dee Pendant:
This beautiful Pendant will proclaim your devotion to Saint Dee Dee. The frame is 2 inches high and comes with a 24-inch ball chain. The pendant is made from silver toned metal with a glass bubble protecting and magnifying the artwork.
The Rosary beads and Pendant are costume jewelry. Only our faith is real…
Each piece is affordably priced, hand-made and overseen by the artist personally.
Available now— exclusively at the Dee Dee Ramone Online Store!
DEE DEE RAMONE JOINS TEAM TANK GIRL!
Plus special offer to score an autographed copy of the TPB–while supplies last…
Who would have ever thought that a chance meeting in the 1990's with a Ramones fan in the UK, (that happened to be a budding young animator and comic illustrator), would eventually land Dee Dee Ramone a role alongside Tank Girl?! True story, it did…
Tank Girl was co-created by writer Alan Martin and illustrator Jamie Hewlett (Hewlett is also co-creator of the Gorillaz). Fittingly, the strip drew, (and continues to draw), stylistic influences from punk visual art; so pulling Dee Dee Ramone through a vortex and into its post-punk apocalyptic world was a natural progression. One that was instigated by present day Tank Girl artist and co-conspirer, Rufus Dayglo.
"It was a story about a Cannonball run type race… and I thought Dee Dee in a VW would be a perfect over the top character", says Dayglo. "Dee Dee pretty much wrote himself as a character… he's an archetype. THE punk boy, a big heart, a cheeky grin and mischievous as f*ck! You'd want him on your team every time! What else could he be driving in this race but a rocket propelled VW with a pickelhaube on top? (with the racing number "1,2,3,4" of course!) We asked for permission to include Dee Dee in the book, and soon after, it was granted!"
The Tank Girl Skidmarks series, (written by Martin and illustrated by Dayglo), first appeared in the Judge Dredd Megazine in September 2008. Printed in black and white (and blue!)…

it ran

in 12 episodes in the

monthly British comic magazine

over the course of a year. In 2009 it was collected into a 4 issue comic book mini-series in the US by Titan Books, (3 episodes per issue), and most recently the Tank Girl: Skidmarks Trade Paper Back collection.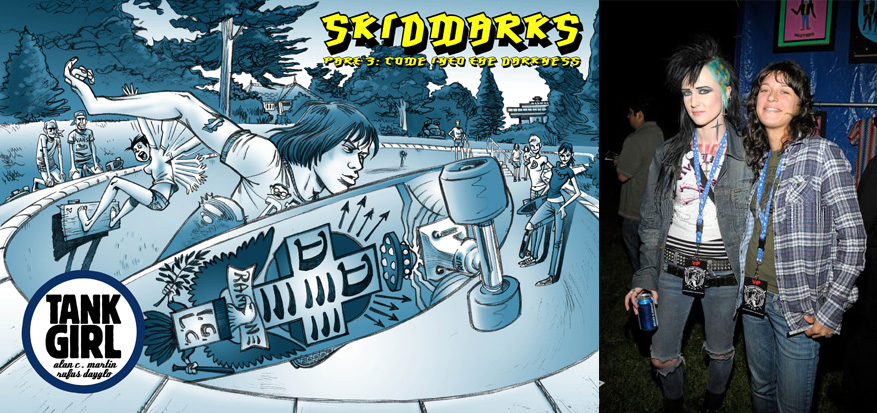 Splash page where Dee Dee first appears skating the pool, on his Dogtown Dee Dee board, with Dee Dee's wife Barbara, and her friend Dana, depicted in the background at right! Click the art above for a larger image.
Far Right: (R-L) Barbara Ramone Zampini and friend Dana at the 2008 Johnny Ramone Tribute. Photo by Paul Redmond.


How did the idea to interpret Dee Dee as a skater in the storyline come to be? Dayglo cites Dee Dee's cover of the 1964 song Sidewalk Surfin' (from Dee Dee's final solo album "Latest and Greatest")…"It all seemed to fall into place! I could imagine him trading a skateboard for a switchblade knife!!"
So where did this all begin? Dayglo elaborates: "Apart from seeing him onstage of course, I first met Dee Dee in the street near Notting Hill, in London. He asked me for my leather jacket, (it had 'Gabba Gabba Hey' and a skull stitched across the back), I said no, and offered to buy him a pint instead! At the pub, he tried on my jacket, and when I took it off, he saw my tattoos and freaked out, (they are of comic book characters, in panels). We sat and talked tattoos, comics, knives, UFOs, and bollox…he was very funny, and liked to tease—kinda like a kid!"
The two even traded art: "I drew him a picture of him being sucked up into a UFO, and he drew me a picture of a sausage dog, (he said he used to graffiti it around NYC), and he wrote 'Hey, it's Dougie' over it."
Unused production art of Dee Dee from Skidmarks, Courtesy of Rufus Daylgo. Click for larger view.
"I've been a Ramones fan since I could yell, 1,2,3,4. That seemed to be the best job in the world. Being in this incredibly cool band, and getting to yell… 1,2,3,4. The Ramones have always been my first love, and Dee Dee my favourite.
When we were about to start work on TANK GIRL – SKIDMARKS all I knew was it was going to be a race story… like Wacky Racers meets Cannonball Run head on with more collateral damage. When I suggested it to Alan, the writer for Tank Girl, he was excited, and found it funny! He's a massive Ramones fan too. We were both really into the idea…of both doing a tribute, and making our favourite Ramone a comic book character.
I thought it'd be fitting…he was just a comic book boy after all, and we both loved UFOs and war comics. I'd also been lucky enough to sing 'Blitzkrieg Bop' and 'Born to Lose' on stage at the Garage venue in London with Dee Dee and his wife Barbara's band years ago, so this was my belated thank you to them too! I had on my 'Gabba Gabba Hey' jacket and Dee Dee recognized me. I was right up the front, and he pulled me onto the stage. It was a childhood dream come true…yelling 1,2,3,4!!!
We teamed Dee Dee up with Tank Girl's sidekick, Jet Girl. They made a fine racing team in their blood red rocket VW! We included lots of little touches we thought Dee Dee would like, switchblade knives, skateboards, and a German army helmet with Dee Dee across the front. Both Alan and I are huge Ramones fans… and Ramones fans are an international brudderhood… so this is our little tip of the hat to Dee Dee, the Ramones, and all the Ramones fans."
Rufus, Team Tank Girl Pencil Division
So what's next for the artist whose pen name could light up Poly Styrene?
"I'm now starting a new series which will be available online at the end of the year…"Solid Gold Death Mask"…I think Ramones fans will like it! It'll be punky, bubblegum mentalness, with girls, guns, knives… And a giant penguin…"
Until then, check out Rufus' work with Alan Martin on six different series' of Tank Girl: "The Gifting", "Visions of Booga", "Skidmarks" (featuring Dee Dee Ramone), "The Royal Escape", "We Hate Tank Girl", and "Bad Wind Rising" available now wherever fine comics are sold.
In fact, in honor of Dee Dee's Birthday, and the launch of DeeDeeRamone.com, we're offering a very special online exclusive! The first 50 people to order the Tank Girl Skidmarks Trade Paperback collection at the all-new, official Dee Dee Ramone Online Store receive an autographed bookplate signed by Tank Girl artist Rufus Dayglo! Some include a hand-drawn sketch too! Available now, and only while supplies last—exclusively from DeeDeeRamone.com.
| | | | |
| --- | --- | --- | --- |
| | | | |
| Full color page from Skidmarks featuring Dee Dee racing Tankie! | Unused cover idea from Skidmarks, Courtesy of Rufus Daylgo. | Pinup from the Skidmarks Trade Paperback | Unused production art of Dee Dee from Skidmarks, Courtesy of Rufus Daylgo. |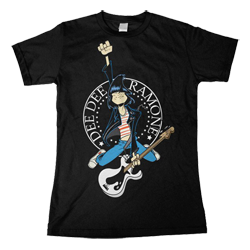 CELEBRATING DEE DEE THROUGH ART

Photos by John Cafiero, Painting Barbara Ramone Zampini
DEE DEE & JOHNNY RAMONE POP! ROCKS VINYL FIGURES –
AVAILABLE NOW
Together legendary punk-rock bassist Dee Dee Ramone, and legendary guitarist Johnny Ramone created a wall of sound that defined the driving force of the Ramones.
For the first time ever in their history making legacy, Dee Dee and Johnny have been rendered as vinyl figures—joining the ranks of Elvis Presley, Jimi Hendrix, Kiss, Ozzy, and more, in Funko's new POP! Rocks series.
Available worldwide both of these stylized 3.75-inch tall vinyl figures come decked in traditional Ramones leather jackets, and armed with their weapons of choice, (guitar and bass respectively). They're detailed right down to Dee Dee's enigmatic glare, Johnny's infamous frown, and the matching shoulder chains that bookended them on stage while changing the face of rock 'n' roll.