Japanese Rockers ZOOBOMBS Release New Album
La Vie En Jupon – March 29th
Album, Press, Bio, Photos:
[MP3] Zoobombs – "Highway A Go Go"
 "

Since 1994, Tokyo's veteran garage thrasher Zoobombs has mashed unhinged '60s psych-rock with postmodern snarl

." – 

Wired




"The supersonic Tokyo band somehow morphed from Stonesy punk-rock maniacs to freaky jazz-rock jammers without losing a beat, or losing a tad of their record-breaking intensity" – Toronto Sun
"Essentially, it's the band The Stones would be if they'd been forged in the post-punk era" – MTV Iggy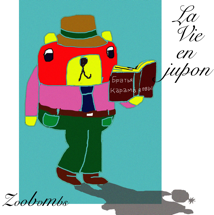 (New York City, NY) – Japanese psych-garage rockers Zoobombs release their new album today, La Vie En Jupon. After signing Röyksopp in 2010, The MuseBox's record label, MB3 Records, have added Zoobombs as their 2nd artist to the roster. The release of their new album coincides with the end of their North American tour that began March 2nd in Chicago and ends with this week's performances in Los Angeles at Redwood on

3/31

 and 

4/1

. The tour continues in Tokyo during the rest of April. Tour dates below. 
The Zoobombs were formed by DON Matsuo (vocals/guitar), Matta (keyboards), and Moostop (bass) in Tokyo in September 1994 and  — together with various drummers – have been amazing rock audiences in Japan, North American and Australia ever since. The Zoobombs' brand of rock and roll is unique: hardcore punk blues spiked with explorations of funk, rap, prog-rock, and even traditional Japanese folk.

The Zoobombs incendiary, live performances quickly shot them to the top of Japan's indie-rock scene and opening concert performances for The Flaming Lipsand Jon Spencer's Blues Explosion. These Japanese psych rockers have been garnering heaps of praise from major media outlets and industry personalities across the globe for their unique blend of psychedelic funk rock. MTV Iggy saying "Essentially, it's the band The Stones would be if they'd been forged in the post-punk era" and The New York Times featured their Let it Bomb album as a masterpiece OF the "Japanese Next Wave" rock movement.
Tour Dates:


3/31 – Los Angeles, CA – Redwood – 11:30pm
4/1 – Los Angeles, CA – Redwood – 11:30pm
4/9 – Tokyo, Japan – Shimokitazawa Basement Bar
4/25 – Tokyo, Japan – Kichijoji GB
4/28 – Tokyo, Japan – Shimokitazawa Cave-Be
5/1 – Tokyo, Japan – Shimokitazawa Basement Bar