Lo-Pan begin national tour next week
'Salvador' Release May 24th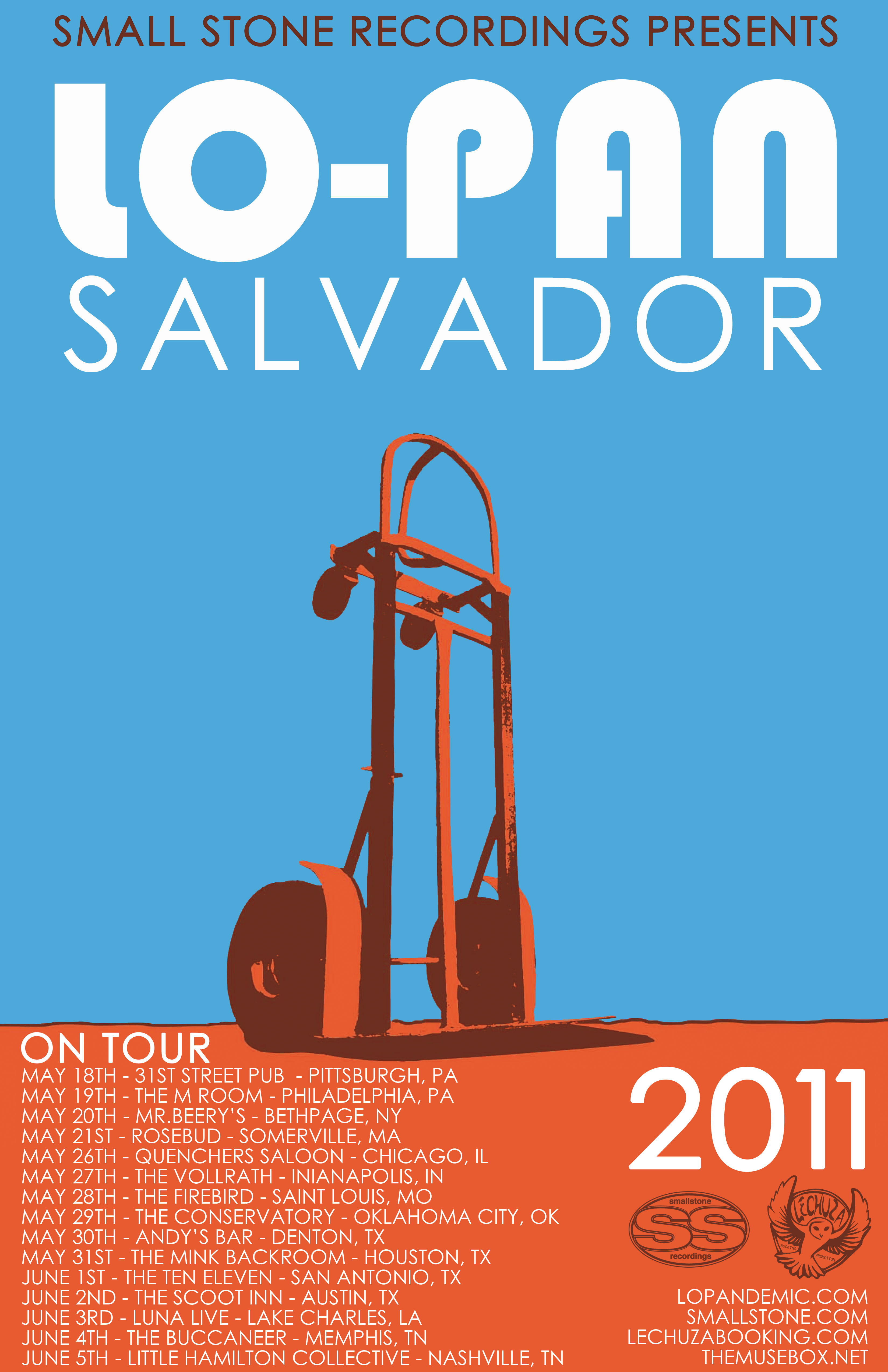 "Catchy, concise songs that don't scrimp of hard-hitting grooves. When a press preview of Salvador hit my inbox last week I pressed play and then actually let the whole album finish; do you know how rare that is for this jaded blogger?"-Metal Sucks
Columbus, Ohio's Lo-Pan will begin their national tour next week.  The three week outing will see them hit the east coast and out west including dates sharing the stage with Small Stone Records label-mates such as Dixie Witch, Gozu, and Honky The band will be supporting the release of their new record 'Salvador' which is slated for a May 24th release. The single, 'El Dorado' recently premiered on Noisecreep and has been covered by tastemaking outlets like Metal Sucks (quote above) to rave reviews.
"The Columbus, OH group's forthcoming 'Salvador' album has the potential to find an audience with both the snobby rock journalist types as well as a more mainstream crowd."_Noisecreep
"Salvador" named for the band's equipment dolly (which adorns the album cover) is eleven tracks of white hot rock and roll fury played like the boys were fighting for their immortal souls.  Leading off with opening track and single "El Dorado" (lyrics inspired by the Edgar Alan Poe poem by the same name) the thunderous low ends and pummeling drums continue to beat your ears into submission. Battling it out front and center is the eternal dual between killer riffs and those soaring vocals.
Forged in 2005, Lo-Pan have been tearing up the club circuit with such artists as Torche, The Sword, Saviours, Red Fang, Salome & the Atomic Bitchwax (just to name a few).  The band will take the road again this spring and summer with national dates snaking through the country, more info at:http://www.smallstone.com/artistinfo.php?artist=61&s=lopan
May 18, 2011 – Pittsburgh, PA @ 31st Street Pub w/ Molasses Barge, Fist Fight in the Parking Lot
May 19, 2011 – Philadelphia, PA @ The M Room w/ Backwoods Payback, Chromelord
May 20, 2011 – Bethpage, NY @ Mr. Beery's w/ John Wilkes Booth, Borgo Pass,
May 21, 2011 – Boston, MA @ Rosebud w/ GOZU, Motherboar, Lunglust
May 26, 2011 – Chicago, ILL @ Quenchers
May 27, 2011 – Indianapolis, IN @ The Vollrath
May 28, 2011 – St Louis, MO @ Firebird w/ Shame Club
May 29, 2011 – Oklahoma City, OK @ The Conservatory w/ Gypsyhawk, Los Dios Del Diablo
May 30, 2011 – Denton, TX @ Andy's Bar w/ Wo Fat, Little Big Horn
May 31, 2011 – Houston, TX @ The Mink Backroom w/ Project Armageddon,  Gypsyhawk, and Mothership
June 1, 2011 – San Antonio, TX @ The Ten Eleven
June 2, 2011 – Austin, TX @ The Scoot Inn  Liquid Sludge Festival w/ Dixie Witch, Honky, Suplecs, Tia Carerra
June 3, 2011 – Lake Charles, LA @ Luna Live w/ Large Marge, 4mag Nitrous
June 4, 2011 – Memphis, TN @ Buccaneer
June 5, 2011 – Nashville,TN @ Little Hamilton Collective w/ Across Tundras, Hellbender