Marissa Nadler Collaborates with Cloud Seeding On "Ink Jar"
P
r

epares for North American Tour and Fall Performances Overseas
"dreamy, melancholy and utterly captivating" – NPR World Cafe
" an uncommonly detailed album…shines through clearly enough to welcome a whole new crowd of rabid
supporters" – Pitchfork "Overlooked Records 2011"
"It's as if she's starting a whole new career by creating a refreshingly fragile edge of Americana rather than simply stirring around freak folk's now-dim embers." – SPIN's "Best Artists for June"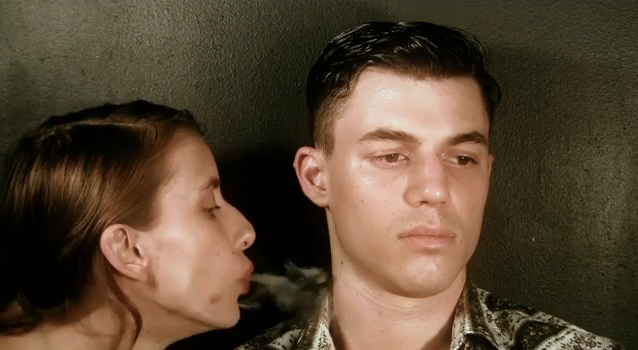 Boston-based songstress
Marissa Nadler
and NY collaborative project Cloud Seeding have released a brand new video for the track "Ink Jar," as Nadler prepares for a set of North American dates with James Vincent McMorrow and a European fall tour. Spearheaded by
Brooklyn-based guitarist Kevin Serra
(This Ascension, Lot 49),
Cloud Seeding is a music singles project conceived as a space of collaboration to showcase vocalists he admires. Nadler is the first vocalist to team up with Serra, penning the vocals for this song.
Directed by Christopher Arcella, the video features actors Ray Lorini and Vera Arcella on a cosmic love journey and can be watched at YouTube

or
Vimeo
.
After releasing several albums with Kemado (and having one of her songs inspire the name for vinyl start-up Mexican Summer), Nadler ventured out independently for her critically acclaimed self-titled album, which has been featured on NPR "World Cafe: Next," NPR First Listen, Vogue, KEXP, Pitchfork 'Overlooked Records of 2011' with an 8.1 album review, and as one of SPIN's "5 Best New Artists for June," among others.
Marissa Nadler On Tour
09/09 – New York, NY – Bowery Ballroom*
09/10 – Boston, MA – Bright Music Hall*
09/11 – Montreal, QC, Canada – La Sala Rossa*
09/13 – Toronto, ON, Canada – Elmo
09/15 – Chicago, IL – Hideout Inn*
09/16 – Milwaukee, WI – Turner Hall*
09/17 – Minneapolis, MN – Cedar Cultural Center*
09/23 – Philadelphia, PA – World Cafe Live w/ Sharon Van Etten
10/04 – London, United Kingdom- Bush Hall
10/06 – Berlin, Germany – Comet
10/07 – Hamburg, Germany – Uebel & Gefährlich/Turmzimmer
10/08 – Copenhagen, Denmark- Pumpehuset
10/09 – Stockholm, Sweden – Debaser
10/10 – Gothenburg, Sweden – Hendriksberg
10/11 – Oslo, Norway – Revolver
10/12 – Bergen, Norway – Perfect Sounds Forever
10/14 –
Tampere, Finland –
Klubi
10/15 – Turku, Finland – Dynamo
10/16 – Helsinki, Finald – Kuudes Linja
*with James Vincent McMorrow
Marissa Nadler

Track Listing:
For more info, please visit:
http://marissanadler.com
http://marissanadler.bandcamp.com
https://www.facebook.com/pages/Marissa-Nadler/103715669667855
http://www.etsy.com/shop/Marissamoon6
http://twitter.com/#!/marissanadler