Marissa Nadler Debuts Video for "Baby, I Will Leave You In The Morning" off Forthcoming s/t LP
Prepares for Tour with Timber Timbre
" Grounded in sharp songwriting and expressive vocals…This is the sound of an artist coming
into her own." – 

Pitchfork
"If 'Baby, I Will Leave You In The Morning' is any indication, this will be the record that lifts Nadler into mainstream consciousness."– My Old Kentucky Blog
Watch the video for "Baby, I Will Leave You In The Morning" at the
Drowned In Sound premiere or Vimeo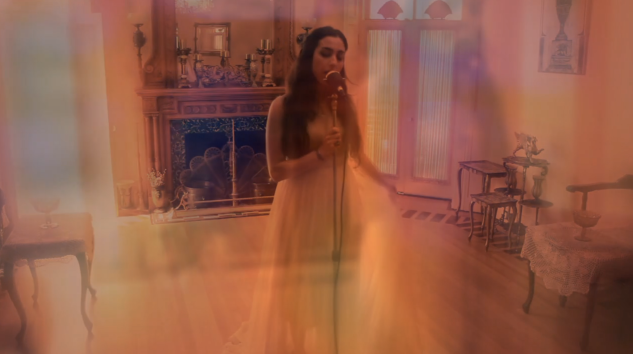 Download the mp3 for "Baby, I Will Leave You In The Morning" (Available to Post)

Boston dream-folk artist 

Marissa Nadler

 has debuted a new video for "

Baby, I Will Leave You In The Morning

," the first single off her forthcoming self-titled album out 

June 14

 on her own 

Box of Cedar

 Records.
Produced by Marissa herself and Guy Benoit, the video for "Baby, I Will Leave You In The Morning," was shot at The Grand Manor in Pawtucket, Rhode Island. Marissa depicts a lonely character singing to herself in various empty rooms of an antique manor. As the sadness and longing consume her, she fades into psychedelic fever dreams losing grip of reality. The clip shows the character walking around the abandoned house in a white wedding dress, overcome by nostalgia. All that remains are old player pianos, mannequins, costumes,  and memories of her forsaken love. 
After releasing several critically-acclaimed albums with Kemado (and having one of her songs inspire the name for vinyl start-up Mexican Summer), Marissa has ventured out on her own for this fifth release. Funded by a successfulKickstarter campaign, where devoted fans donated to support her latest recorded effort, she's also offering a string of hand-painted records and original artwork via Etsy.
Recently performing several dates with Low, Marissa will embark on a summer tour behind her new album, starting with Timber Timbre in June. More dates to be announced shortly. 
Marissa Nadler On Tour
 w/ Timber Timbre
Tue. Jun 7 @ 9:30 PM – Seattle, WA – The Sunset * 
Wed. Jun 8  @ 9 PM – Portland, OR – Mississippi Studios * 
Fri. Jun 10 @ 8 PM – San Francisco, CA – Swedish American Hall * 
Sat. Jun 11 @ 8:30 PM – Los Angeles, CA – Bootleg Theater * 
Sun. Jun 12 @ 9:30 PM – San Diego, CA – Casbah * 

Marissa Nadler 

Track Listing:
1. In Your Lair, Bear
2. Alabaster Queen
3. The Sun Always Reminds Me Of You
4. Mr. John Lee Revisited
5. Baby, I Will Leave You In The Morning
6. Puppet Master
7. Wind Up Doll
8.Wedding
9. Little King
10. In A Magazine
11. Daisy, Where Did You Go?

For more info, please visit:
http://marissanadler.com
http://marissanadler.bandcamp.com
http://www.etsy.com/shop/Marissamoon6
http://twitter.com/#!/marissanadler