MB3 RECORDS TO RELEASE SOCALLED NEW ALBUM "SLEEPOVER" FOR U.S. DIGITAL RELEASE (5/17)
FEATURING 34 CONTRIBUTING MUSICIANS INCLUDING ROXANNE SHANTE, THE MIGHTY SPARROW, C-RAYZ WALZ, FRED WESLEY, DERRICK CARTER & MORE!
"A masterpiece." –Van Dyke Parks

[MP3] Socalled – Sleepover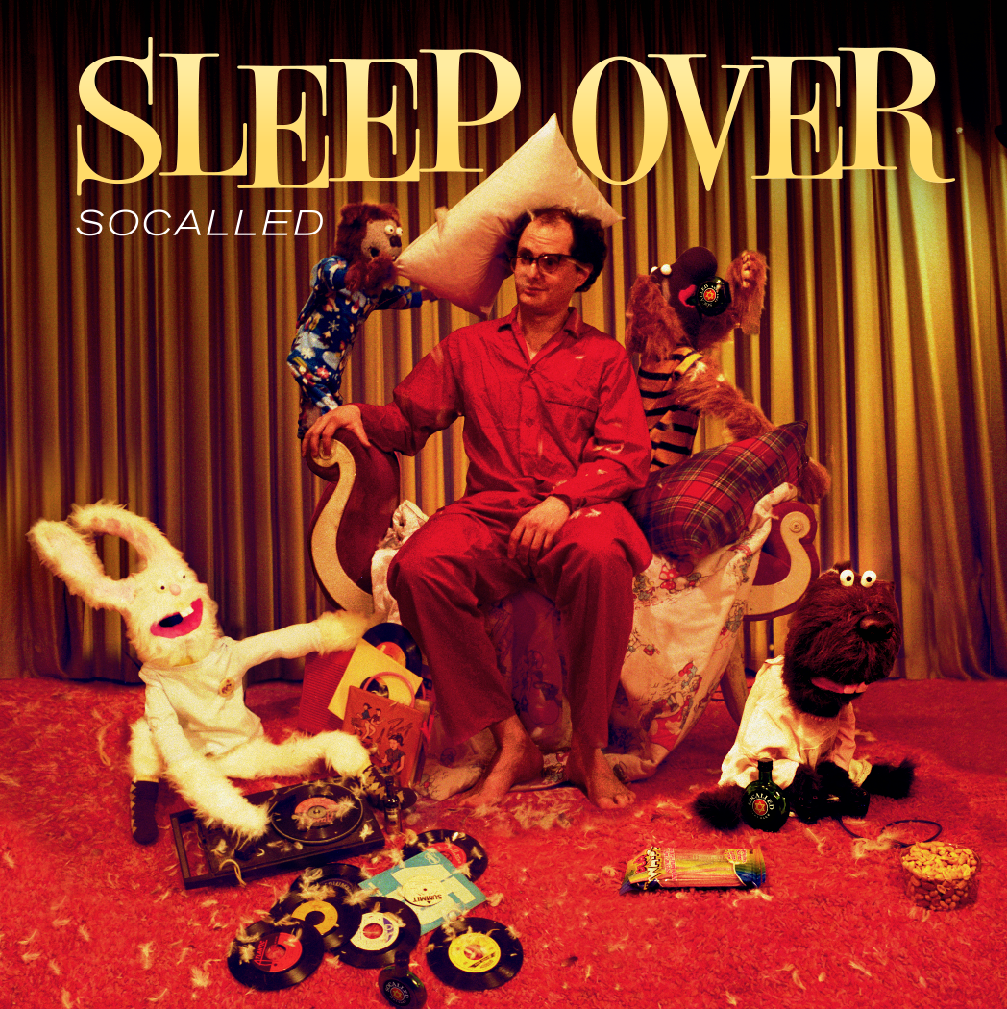 Montreal's grand musical mash-ter-mind Socalled has announced the release of his fourth studio albumSleepover in the U.S. via MB3 Records (Royskopp, The Zoobombs).  The digital album will be released 5/17 with a physical to come later this summer.  Few artists can add musician, producer, composer, arranger, filmmaker, photographer, visual artist, and magician to their resume, but Socalled clearly doesn't subscribe to limits.  Somewhere between folktronica, electro-funk, Canadiana, neo-soul, rap and dancehall, SoCalled's Klezmer sampled beats, full band workout, melodic vocals and emcee contributors are unlike any mash up you've heard.  His latest album boasts an international supporting cast of no less than THIRTY-FOUR contributing musicians ranging from rap pioneer Roxanne Shante, the beautiful voice of Katie Moore, dynamo musician and producer Chilly Gonzales, king of calypso The Mighty Sparrow, 95 year-old pianist Irving Fields, funk trombone god Fred Wesley and legendary NY underground emcee, C-Rayz Walz just to name a few.
The creation of Sleepover is documented in The Socalled Movie a full-length DVD movie that gives a first hand look at the individual Socalled.  Following Socalled on tours around the world, on the creation of image-rich videos that get online views in the millions, recording with Fred Wesley and unleashing sleight of hand parlor tricks mid-set is some of the feats documented within.  The film has been screened at a multitude of film festivals this year including SXSW, The 20thanniversary NY Jewish Film Festival, The Toronto Film Fest (a full list is below).   More info at: www.SoCalledMusic.com

Socalled will be performing and screening his film on Monday May 9th at the L.A. Film Fest, info here
MB3 Records launched in 2010 and is an independent record label with worldwide distribution via EMI Music and is a division of The MuseBox Inc. Other artists on MB3 Records and The MuseBox Distribution include Malajube, Röyksopp, Zoobombs, Socalled, Gavin Friday, Head Like A Kite, Chamberlin, White Belt Yellow Tag, Elisapie, Lights On Moscow, Jess Hill, Shortwave, Scattered Trees, Kae Sun, Paper Lions, Brute Chorus, Miles Jones, Sounds Under Radio, Living Days, My Other Friend, The Oholics, KrashKarma, Little Foot Long Foot and more to be announced.
SOCALLED MOVIE SCREENINGS 2011
20th Annual New York Jewish Film Fest
2010 Hot Docs International Documentary Film Festival
Int'l Documentary Film Festival Amsterdam
15th Denver Jewish Film Festival – 2011
21st Washington Jewish Film Festival – 2010
Cape Ann Jewish Film Festival – 2011
Peterborough International Film Festival