MyNameIsJohnMichael premieres single,
'Orphan,' via Consequence of Sound

First taste of upcoming new album:

Kicks off tour at Jazzfest and heads East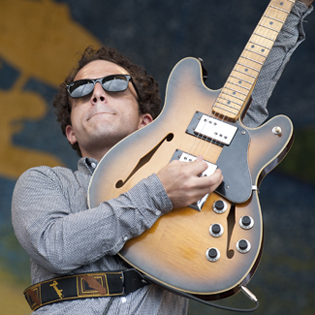 New Orleans, Louisiana band MyNameIsJohnMichael just premiered their newest single, 'Orphan' viaConsequence of Sound  and wrapped up the final touches on their sophomore record produced by Raymond Richards (producer of Local Natives "Gorilla Manor"). They will be kicking off an east coast tour with appearances at New Orleans Jazz and Heritage festival alongside Okkervil River, Gene Ween (Ween), Brett Dennen, The Strokes, and New Orleans royalty Trombone Shorty, amongst many others. Following their hometown Jazzfest shows, the band will be hitting major markets in the South and up the east coast.

The New Orleans influence is clear in the band's funky approach to crafty singer-songwriter pieces. MyNameIsJohnMichael is a 6 piece indie rock band born and raised in New Orleans, which began as a solo project in 2008 when lead singer John Michael Rouchell accepted a friendly challenge to write, record, and release 52 songs in one year. Only 4 months into the project, a more realized MyNameIsJohnMichael was born, and in March of 2009 the group put out their self-released debut album, "The People That Come and Go." The tracks on the album came from the 52 songs of 2008 and were voted on and selected by fans.

Full of vibrant energy and explosive performance, MyNameIsJohnMichael's live shows go unrivaled, featuring horns, trashcans and chains.  The group has an impressive touring resume, playing national festivals like Bonnaroo, New Orleans Heritage & Jazz Festival, Voodoo Fest, Austin City Limits, South by Southwest, B.O.M.B. Fest, French Quarter Fest, Lollapalooza, and CMJ (to name a few.) They have opened for the likes of Phoenix and Surfer Blood, and Monsters of Folk, to great reviews from publications like SPIN and The Metro.

John Michael Rouchell's music has been featured in an ad for Coach, and the singer was recently featured in a Black Cab Session when the well-respected Internet taste maker made its way from the UK to the States to discover new up and coming acts  A guitar prodigy from an early age, Rouchell made his major 'public performance' debut at the  age of 14, when he found himself pulled on stage at a New Orleans Parliament Funkadelic show. He's only gotten better since that auspicious debut, and Rouchell's guitar work is a key feature of the band's sound.
 
SPIN Magazine featured MyNameIsJohnMichael as one of the Top 25 Bands to See at CMJ 2009, calling the sound, "straight forward, plaintive acoustic balladry infused with a bit of brassy Big Easy bravado. " The review was followed quickly by The Metro's declaration that MyNameIsJohnMichael was one of the 5 top bands you should have seen at CMJ, calling the band "a Bayou-flavored version of the Arcade Fire's anthemic indie pop, [this] six-piece band sing dead-on harmonies and rock out ferociously when the occasion calls for it."
Upcoming New Orleans appearances:
April 28th-One Eyed Jacks OPENING for Okkervill River
May 2nd-Tipitina's FUNDRAISER for the Tipitina's Foundation's program Instruments A Comin'
May 6th- Blue Nile JM SOLO-OPENING for Gene Ween of WEEN
May 7th- New Orleans Jazz and Heritage Festival, Gentilly Stage, 1:55 pm (playing before Trombone Shorty & The Strokes)
May 8th-Republic OPENING for Brett Dennen
May 10th- Nashville, TN @ The Basement. New Faces Show
May 11th- Knoxville, TN @ Preservation Pub
May 13th– Louisville, KY @ Phoenix Hill Tavern
May 15th-Philadelphia, PA @ North Star Bar
May 16th-Brooklyn, NY @ Brooklyn Bowl opening for J Roddy Walston & The Buisness and These United States
May 18th-New York, New York @ The Mercury Lounge (early show)
May 19th-Washington DC @ Sixth & Historic Synagogue opening for Kopecky Family Band
May 23rd- Nashville, TN @ Exit Inn
May 25th- Asheville, NC, USA Grey Eagle Tavern & Music Hall
May 26th-Atlanta, Georgia @ Masquerade
May 27th-Tipitina's with Big Sam's Funky Nation
May 28th-Mobile, AL @ Music Box with Modern Skirts