| | |
| --- | --- |
| | OFFICIAL MISFITS RECORDS NEWSLETTER: SEPT 2, 2011 |
---
---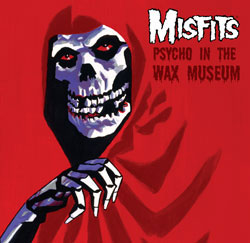 One lucky grand prizewinner will receive a black vinyl test pressing of the Misfits new Ltd. Ed. 12-inch maxi-single "Twilight of the Dead" (from the new album "The Devil's Rain")— signed by the entire band!
50 random 2nd prizewinners will receive the ultra-rare, highly collectible, promotional only, 7-inch: "
Psycho in the Wax Museum
". These are not reprints. All winners will receive a rare copy from the original 2006 pressing, long out of print, and unavailable for sale – anywhere!
All Misfits/JuiceheaD new release pre-orders also receive an instant MP3 download
to tide you over until the storm hits in October…
TWILIGHT OF THE DEAD LTD ED 12-INCH VINYL MAXI SINGLE
The Misfits "Twilight of the Dead" Ltd. Ed. 12-inch maxi-single is here! Features all-new recordings of "Twilight of the Dead" (Side A) and "Land of the Dead" (Side B); offering your first taste of blood from the new album.

GLOW-IN-THE-DARK VINYL: ONLINE EXCLUSIVE
An incredible Glow-in-the-Dark Ltd. edition vinyl pressing is available for pre-order, exclusively from Misfits Records Online. The glow edition will not be sold in stores. Limit 2 per customer, a worldwide exclusive from Misfits Records online while supplies last!
CLEAR BLUE VINYL
W/ 1-IN-10 VARIANT – IN STORES THIS OCT.
LTD. COLLECTOR'S SET
WHILE SUPPLIES LAST!
When the clear blue vinyl edition arrives in stores on October 4th, fiends will have an approx 1-in-10 chance at finding a rare blue with red blood splats variant inside—a perfect companion to match the sleeve art.
The clear blue edition is also available for pre-order from Misfits Records online—right now.
For serious vinyl enthusiasts, we offer a chance to score a special collector's set while supplies last. The set includes: 1 clear blue 12-inch, 1 Glow-In-The Dark online exclusive 12-inch, and guarantees you 1 rare blue with red blood splat variant. Complete your set at a reduced price! Only 138 collectors sets are available in the online store, so act fast. You have been warned! Limit 2 per customer.

Look for Misfits & JuiceheaD on tour nationwide Sept-Dec. 2011
with new releases from each in stores worldwide starting October 4th!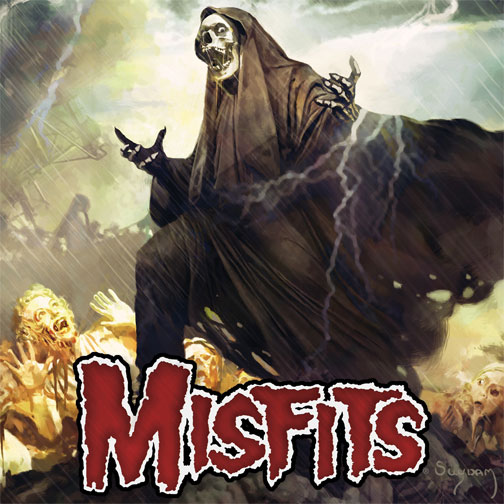 MISFITS: THE DEVIL'S RAIN
The Misfits return with their long awaited, first full-length release of all-new, original material in nearly a decade! Rooted in the horror and sci-fi themes fiends crave, "The Devil's Rain" showcases 16 fiendish, soon-to-be Misfits classics including "Twilight of the Dead", "Dark Shadows", "Curse of the Mummy's Hand" and the title track itself, "The Devil's Rain". Produced by Ed Stasium, (who's credits include the Ramones' "Road to Ruin" and "Too Tough to Die", as well as the Misfits' 1999 release "Famous Monsters"), the album showcases a jaw-dropping, two-panel front/back cover painting featuring the rebirth of the band's iconic "Fiend" mascot in an epic setting rendered by Arthur Suydam (known for his immensely popular work on the Marvel Zombies series, among others). The packaging, designed to emulate a CD sized gatefold LP, also features some incredible new Misfits portraits shot by the legendary Mick Rock. Rock's imagery (which includes Bowie, Iggy, Queen, Debbie Harry, and the Ramones to name a few), has become part of the very fabric of rock 'n' roll. Having also served as an on-set photographer for cult-movie classic "The Rocky Horror Picture Show", Rock lends a perfectly suited eye to view the band's surrealistic and highly theatrical persona. "The Devil's Rain" is not just a continuation of a historic legacy, it's a total reboot ushering in a new era of terror. In a sense, it's the debut album from the legendary Misfits of this decade. From fans of their classics, to newcomers discovering the band for the very first time, "The Devil's Rain" sets the bar, and redefines the ferocity and melody that has made the Misfits omnipresent and immortal.
First press Ltd. Deluxe Edition CD digipak includes an exclusive 9.5" x 14" two-sided poster featuring the incredible cover art by Arthur Suydam (treated with Glow-In-The-Dark ink!), plus a fantastic new band portrait by legendary photographer Mick Rock on the reverse.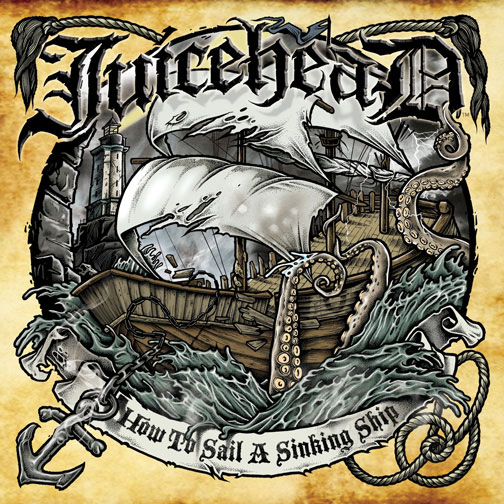 JuiceheaD "How to Sail a Sinking Ship"
Misfits Records presents, the all-new, full-length, breakthrough studio album by JuiceheaD
Armed with a hard, aggressive melodic arsenal and thought provoking lyrics, JuiceheaD defines the new breed of punk rock. Their music is infectious, contagious and packs enough punch to satisfy most old school punk rock fans, while simultaneously delivering a universal sound that any enlightened music fan will truly appreciate.
Produced by longtime Misfits & Ramones collaborator John Cafiero. Known for chart topping releases, Producer/
Osaka Popstar
frontman Cafiero also appears on guest backing vocals for "Rotting from the Inside." Additional guest appearances include Melora Creager (Nirvana,
Rasputina
) on cello for the punk-goth ballad "Black Roses," and The Punk Pipers (consisting of NYC Firefighters) adding a traditional bagpipe flavor to the melodic track "When I Fall From Grace."
Includes FREE 9.5″ x 14″ exclusive full-color poster with art by
Joe King
(Obey Giant, Crooks & Castles, Billabong). "How to Sail a Sinking Ship" features 20 tracks, with over an hour of new-music, showcasing the band's ability to combine a diverse range of musical styles & influences into their own blistering blend of punk rock.
Pre-order now @ Misfits Records online and receive a free instant MP3 Download of the single "Better Days"
to tide you over until the "Sinking Ship" sets sail worldwide on October 4th!
New JuiceheaD "Sinking Ship" tees also available in your choice of brown or black.
MISFITS RECORDS TEAMS WITH MRI & RED
In related news, Misfits Records has officially joined forces with MRI/Megaforce and RED, (a division of Sony Music, and the #1 label distribution company). We welcome them to the fiendish family.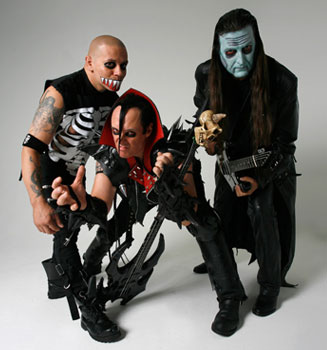 Photo by Mick Rock. © 2011 Used Under License.
THE MISFITS: NEW "RAIN" OF TERROR
Jerry Only continues to keep the bonfires burning bright well into their third decade, guitarist Dez Cadena celebrates his 10th anniversary in the band, and drummer Eric "Chupacabra" Acre has officially joined the fiendish fold. Formerly known as "The Goat" Arce, has transformed into a "Chupacabra". Having been a fixture in the 'Fits touring lineup for over a decade, he was recently inducted a permanent member upon the retirement of original Misfits drummer Robo, who'd passed the torch in 2010.
A new "rain" of terror truly begins…prepare for the storm.
LINDA RAMONE AND JRA CHIEF OF STAFF JOHN CAFIERO PRESENT
THE 7TH ANNUAL JOHNNY RAMONE TRIBUTE
SATURDAY, OCTOBER 1, 2011
HOLLYWOOD FOREVER CEMETERY
6000 Santa Monica Blvd. LA, CA
GATES 5:30PM, ADMISSION $10
SPECIAL GUESTS:
THE MISFITSPLUS
MISFITS RECORDS RECORDING ARTISTS
JUICEHEAD
SIGNING THEIR NEW ALBUMS
"THE DEVIL'S RAIN" & "HOW TO SAIL A SINKING SHIP"
GET THEM BOTH—3 DAYS BEFORE THEY ARRIVE IN STORES!
+ EXCLUSIVE MISFITS VINYL AVAILABLE ONLY AT THE EVENT
GRAMMY AWARD WINNER & RNR HALL OF FAMER:
TOMMY RAMONE
DRUMMER, PRODUCER & FOUNDING MEMBER OF THE RAMONES
MEET & GREET WITH FANS
ON-SITE INTERVIEWS
DOUBLE FEATURE – OUTDOOR SCREENING – AFTER DARK
THE RAMONES: JOHNNY, JOEY, DEE DEE & TOMMY

LIVE ON DON KIRSHNER'S ROCK CONCERT
FILMED IN 1977 & SCREENED IN ITS ENTIRETY FOR THE 1ST TIME IN DECADES
COURESTY OF HISTORIC FILMS
AND
BELA LUGOSI, VAMPIRA & TOR JOHNSON STARRING IN
ED D. WOOD JR.'S 1959 B-MOVIE CULT CLASSIC:
"PLAN 9 FROM OUTER SPACE" —NOW IN 3D
COURTESY OF
PASSMORELAB
AND PRESENTED IN
REALD
3D!
SURPRISE CELEBRITY GUESTS
AUTOGRAPH SIGNINGS, PHOTO OPS & LOTS MORE!
Visit the 8-Ft Johnny Ramone Memorial Statue & the Grave Site of Dee Dee Ramone.
Net proceeds benefit the Johnny Ramone Research Fund at USC Westside Prostate Cancer Research Center
Visit Misfits at these sites:

Visit JuiceheaD at these sites:
Visit Misfits Records at these sites: