** Sounds Under Radio's Music Video for"Sing" Premieres on PopMatters **
** "Sing" Infiltrates Television Airwaves With Promo Spot on American Idol **
New York, NY
 – When it rains it pours, as the old saying goes. Days after Austin-based rock act 
Sounds Under Radio
 was selected to have their single "Sing" from their forthcoming album 
'Where My Communist Heart Meets My Capitalist Mind'
 (in stores May 3
rd
) featured on Fox's 
American Idol
, their music video for the single is also premiered on 
PopMatters
.
Sounds Under Radio are infiltrating your television airwaves, as "Sing" was selected to be used in the newest promo spots and commercials for 
American Idol
. After a spate of sync successes in film and TV with placements in Spider Man 3 (Sony Pictures), The Wolfman (Universal Pictures), War Games: The Dead Code (MGM Pictures) and CW's 'The Vampire Diaries', Sounds Under Radio now manage to share their music with people on one of the grandest scales of broadcast television, with their American Idol spot.
[MP3] Sounds Under Radio – Sing (cleared for posting)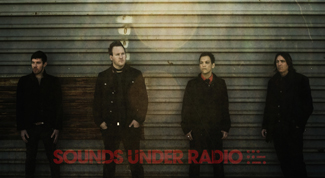 Directed by Jeff Ray at Papertank Productions, Sounds Under Radio's music video, "Sing," is as visually epic as it is musically stunning. The music video is a way of showing that despite disasters and fears in the world, 
there
 is still beauty all around us. See it first at 
Popmatters
.
Links:
MySpace
Tour Dates:
 April 22 @ Common Grounds (Waco TX)
April 23 @ The Stafford (Bryan/College Station TX)
April 29 @ The ND (Austin TX) –Hometown Record Release Show-
April 30 @ Opening Bell (Dallas TX) –acoustic show-
May 3 @KLBJ FM (Austin TX) 'Local Licks Live'
May 7 @ Magnolia Motor Café (Ft. Worth TX)
May 8 @ Scout Bar (Houston TX)
May 21 @ Jacks (San Antonio TX)
May 27 @ The Prophet Bar (Dallas TX)