SPINDRIFT PREMIERE TRAILER FOR "LEGEND OF THE WIDOWER COLBY WALLACE" ON IFC.COM
NEW ALBUM "CLASSIC SOUNDTRACKS" OUT MAY 10th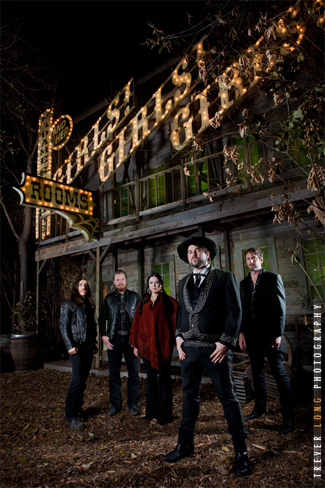 Los Angeles, CA Cinematic psych outfit,Spindrift have premiered a trailer for the forthcoming film "Legend Of The Widower Colby Wallace" directed by Burke Roberts.  The film was scored by the band with the theme song also appearing on their new album "Classic Soundtracks vol: 1"out today on Xemu Records (Dead Meadow, the morning after girls). A fifteen minute short film version will screen at several film festivals this year paving the way for a full-length version for the near future.
The story follows French trapper Francois Le Fey in1826 as he descends the Rocky Mountains en route to trade beaver pelts at the first annual Rendezvous of Mountain Man.  His life changes when he comes upon Colby Wallace and his Native American bride, Francois had not seen another living man in over a year. He had not seen a living woman in far longer."
Director Burke Roberts has won multiple awards at over 30 international film festivals for titles such as:  "Jesus Rides Shotgun", "Fuck Fashion" and "Some of an Equation."  He was honored last year with a full retrospective of his films presented by the Los Angeles County Museum of Art.  His films deal with challenging themes, such as oppression, fanaticism and extreme circumstances.
Spindrift's "Classic Soundtracks vol: 1" was music written to accompany films and trailers.  The band is releasing a video or trailer for each song to premiere onIFC.com.  This is the fourth song to premiere. 
The band is currently on a eight week European tour including stints with Black Mountain, Kurt Vile and Dead Meadow.  A national U.S. tour is to be announced shortly as well.  All info at the band's website www.Spindriftwest.com