** Stream Sounds Under Radio's Full Album on Much Music Before it's May 3rd release date on EMI/The MuseBox Distribution**
** Sounds Under Radio Tour All Throughout Texas All of May and June**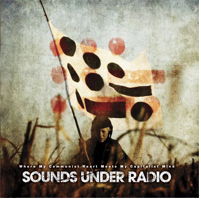 New York, NY – Through their highly melodic Americanized Brit Rock flair – reminiscent of bands like Muse, Keane, and Brand New – Sounds Under Radio has forged an audience and a sound uniquely their own and with their sophomore release,Where My Communist Heart Meets My Capitalist Mind, they continue to build upon their musical truths that they established with their first album Cinematica (2008). If you can't wait for the May 3rdrelease date of their forthcoming album then you can stream it in its entirety onMuch Music's First Listen. Click here.
Where My Communist Heart Meets My Capitalist Mind is an album that investigates a marriage of opposites and the collision of conflicting forces. In other words, the everlasting battle of HEAD versus HEART.

[MP3] Sounds Under Radio – "Sing" (cleared for posting)
Things are continuing to snowball for the band these days. Since infiltrating television airwaves with their lead single "Sing" added as the new promo song for American Idol and a series of syncs on the Vampire Diaries, Sounds Under Radio have now set up a "Win it before you can buy it". Enter to win great prizes here. Also, don't forget to set your TIVos for FOX's Good Day Austin at 8:45am onApril 29th as Sounds Under Radio perform cuts off their forthcoming album to promote their hometown record release show at 

The ND (

501 I-35), that same day.
April 29 @ The ND (Austin TX) – Hometown Record Release Show –
April 30 @ Opening Bell (Dallas TX) – Acoustic Show –
May 3 @ KLBJ FM (Austin TX) 'Local Licks Live'
May 7 @ Magnolia Motor Café (Ft. Worth TX)
May 21 @ Jacks (San Antonio TX)
May 27 @ The Prophet Bar (Dallas TX)
May 28 @ El Dorado (Shreveport LA)
June 17 @ The Rutledge (Nashville TN)
June 24 @ Warehouse Live (Houston TX)
June 25 @ The Stafford (Bryan/College Station TX)