** Brooklyn Based Trio, The Bandana Splits Release Self-Titled Debut Album Aug 16th via Tummy Touch Records **
**New York City Summer Shows Announced!**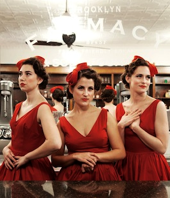 Sometimes all that glitters IS gold.
At first glance, The Bandana Splits look like a pin-up girl group from the early 60s, yet behind the cutesy façade lurks a serious power pop trio. Annie Nero, Dawn Landes, and Lauren Balthrop were brought together by geography and their love of The Andrews Sisters charm and Spector-like musicality. Along with producerSam Cohen (Apollo Sunshine/Yellowbirds) The Splits have effortlessly crafted your new favorite record.
The Bandana Splits' self-titled debut album sends listeners whirling through the space/time continuum, conjuring images of soda jerks and varsity jackets. However, they're much more than a throwback piece. Recorded at Landes' Saltlands Studio in DUMBO, Brooklyn, the record displays their unique songwriting and sweet 3-part harmonies performed live around an old RCA ribbon microphone.  Accompanied by spastic guitar, Muppetesque drum and bass jams, and slinky organ riffs, Cohen sonically infused the record with Motown grooves, Brazilian psychedelia, and a tasteful dash of classic country schmaltz. 
In support of their debut release, the girls are excited to be performing a bunch of shows around NYC this summer. You can feast your eyes and ears on theBandana Splits at any, or preferably all, of the scheduled happenings below.
Tour dates:
June 18th – Brooklyn, NY – Littlefield (Farewell to Normal Scene Party)
June 21st – New York, NY – Joe's Pub (part of Make Music New York)
July 9th  – New York, NY – The Mercury Lounge (7 pm w/ Elizabeth & the Catapult and Harper Blynn)