RISE YE SUNKEN SHIPS,
THE DEBUT ALBUM FROM WE ARE AUGUSTINES,
SET FOR AUGUST 23rd RELEASE
"CHAPEL SONG," #4 MOST ADDED AT TRIPLE A RADIO,
 TAPPED FOR STARBUCKS' FRAPPUCCINO® PROMOTION, KICKING OFF JUNE 6th
iTUNES NAMES "HEADLONG INTO THE ABYSS" AS
"SINGLE OF THE WEEK" STARTING JUNE 7th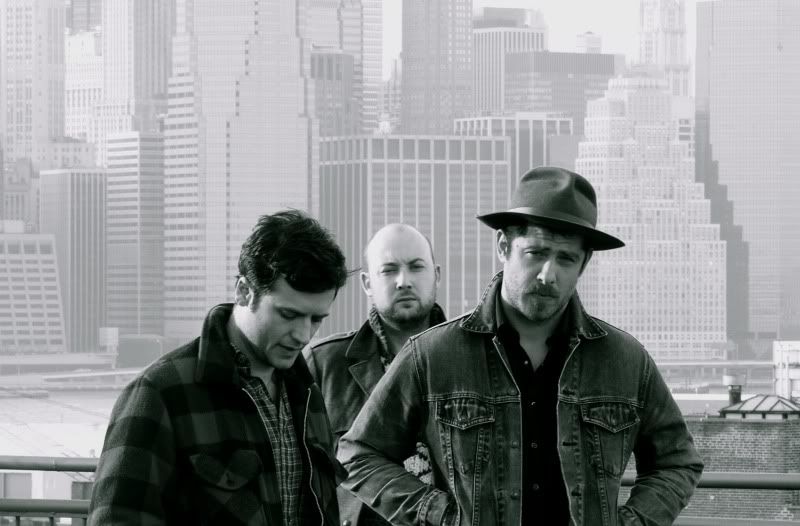 Brooklyn-based We Are Augustines – formed by ex-Pela membersBilly McCarthy and Eric Sanderson and featuring Rob Allen on drums – will release their debut album, Rise Ye Sunken Ships, on August 23rd on the band's own Oxcart Records via ada (Alternative Distribution Alliance).
The collection kicks off with "Chapel Song," a heartrending tale of lost love.The track has been tapped by Starbucks for its upcoming "10 Song Summer Mix" digital sampler. Beginning June 6th, "Chapel Song" will be one of 10 free songs available for download on iTunes to customers who purchase a Frappuccino® at Starbucks or to any customer on the Starbucks Digital Network in store. The offer, good while supplies last, will be available in the U.S. and Canada. "Chapel Song" was #4 Most Added (tied with Amos Lee's "Flower") in its first week at Triple A radio, making We Are Augustinesthe highest added independent band, and 10 Non-Com stations are already spinning the record.
"Headlong Into The Abyss,"
 another track from the album, will be iTunes' "Single of the Week" beginning June 7th in the U.S., Canada, Mexico, Australia, New Zealand and Japan. Rise Ye Sunken Ships will be released digitally exclusively on iTunes in the above countries on the same day.
Much of the material on Rise Ye Sunken Ships documents the most traumatic period of lead vocalist/guitarist Billy McCarthy's life in which he lost both his schizophrenic mother and brother to suicide. His mother took her own life when he was just 19 and then, in 2009, his younger brother James, also a diagnosed schizophrenic, hung himself while at a psychiatric hospital.
"Keep your head up, kid/I know you can swim/But you've got to move your legs," McCarthy pleads in "Augustine" while "Headlong Into The Abyss"recounts James' flight from the police. The latter is fueled by the exhilaration that comes from giving the finger to the status quo and driving hard and fast away from one's fate. "Book of James," one of several songs recorded with producer Dave Newfeld (Broken Social Scene), is a gripping eulogy for this once-resilient spirit who succumbed to the pressures bearing down on him from both within and without. For a limited time, fans can get a free download of "Book of James" at http://weareaugustines.com/.
"Society at large would rather not think about the topics of homelessness and mental illness," observes McCarthy. "But people who have lived through it are forced to find a place internally to store it in. This song is written from that place."
"The Instrumental,"
 a transcendent, richly textured piece written by bassist/keyboardist Sanderson, closes out Rise Ye Sunken Ships with a hard-won hope, suggesting that struggle can ultimately point the way to peace. "It was birthed out of the chaos of living in New York City – balancing the draining moments spent working day jobs in industrial areas like Columbia Street, Sunset Park and Long Island City with the pure, romantic dreams of being a musician," recalls Sanderson.
It's a dream he and McCarthy lived for nearly a decade as members of Pela. But despite the indie band's remarkable successes -its acclaimed debut,Anytown Graffiti, landing on numerous critics' "Best of 2007" lists, sharing stages with Sonic Youth, Sleater-Kinney and The Flaming Lips and others, an appearance on "Late Night with Jimmy Fallon," songs licensed by such shows at "Grey's Anatomy" and "Scrubs" – Pela imploded.
"We've had to realign the way we approach our music," explains Sanderson. "But we couldn't be where we are now if Pela didn't exist." McCarthy concurs: "The lessons we've learned are like lanterns illuminating a path for us."