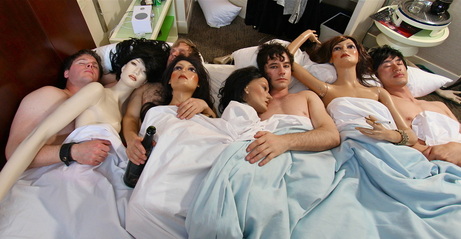 The Hundred Days premiere the first video and single, 'Sex U,' off their freshman full length record, "Really?"- produced by Michael Patterson (Beck, She Wants Revenge, Ladytron) of popantipop Records. The video was directed by David Dutton, a San Francisco resident with a penchant for buzzworthy music videos and shorts. The single, 'Sex U', is a freak-out dance-rock anthem for late nights, models, booze, and sexy excesses as depicted in Dutton's directorial vision.
The Hundred Days new album, "Really?" is the latest project from the production team of Michael Patterson and Nic Jodoin (Great Northern). With driving rhythms, soaring guitars, textural keyboards and powerful vocal melodies, The Hundred Days push indie/alt. rock in new directions. Drawing from a variety of influences (post punk, alternative, britpop), the band's familiar, yet intrinsically unique sound has been compared to The Cure, Echo and the Bunnymen, and Radiohead as well as contemporary rockers Franz Ferdinand, The Bravery and The Killers. A moody, dynamic indie rock band, The Hundred Days showcase tight musicianship complemented by razor-sharp pop writing capabilities with both sophistication and urgency.
Concert Dates Announced!
Explaining the band's ever-evolving sound on the new album, lead vocalist and guitarist Jonathan Smith added, "Over time, we have come to favor live shows where people are dancing. Hence we seem to be moving in a more dance-able direction in the studio, as well."
"The Hundred Days are only beginning what is promising to be a long career, so you better jump ahead and catch them live while it's still somewhat cheap and there are no convenience charges." – ZERO MAGAZINE
Upcoming Shows:
May 21
98.7 & LA Weekly Presents:
Judgement Day @ The Roxy
Los Angeles, CA
June 20
popantipop Presents:
The Californian June Residency
@ The Satellite
w/ Special Guest
Los Angeles, CA
July 8
Live 105 & Popscene Presents:
@ Rickshaw Stop
San Francisco, CA
August 26 & 27
Sunset Junction Festival
Bates Stage
Los Angeles, CA