The Sheepdogs Advance To The Final Round of Rolling Stone's "Choose The Cover" Contest
Band Also Added To This Year's Bonnaroo Lineup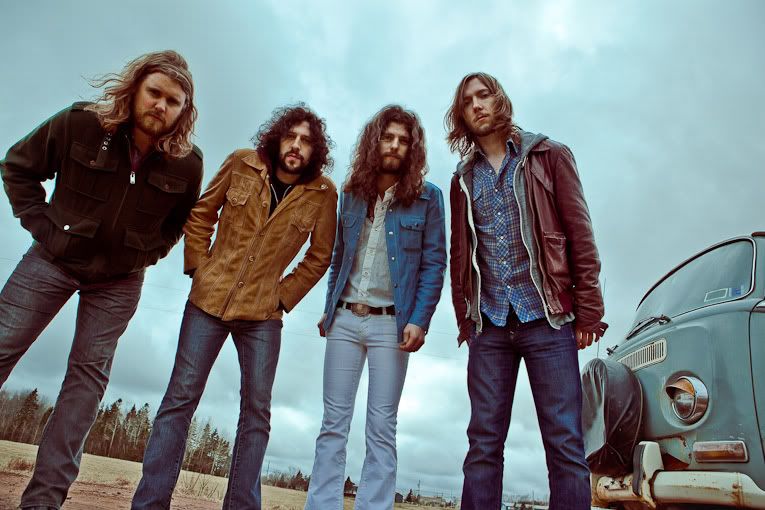 Photo Credit: Matt Dunlop
Canadian rock band The Sheepdogs have outlasted yet another round of cuts in the on-going Rolling Stone "Choose The Cover" contest, now finding themselves one step away from smiling directly at you from magazine stands everywhere.  The band has survived to the final round of cuts, one of two bands remaining in the competition. Rolling Stone has compared them to The Band, noting they are "a group of shaggy Canadians obsessed with American roots music." You can click HERE to vote for The Sheepdogs on RollingStone.com.
The band was also recently added to this year's impressive Bonnaroo lineup. The band will be playing "This" Tent on Saturday, June 11th at 2 pm.
The Sheepdogs' latest album, Learn & Burn, is a beautiful blend of power and imagination, ranging from ferocious rockers to southern boogie and grooving psychedelia. Big guitars and piano skillfully color each of the album's 15 tracks, proving that these boys are as dedicated to the craft of songwriting and album-making as they are to playing a dynamite live show. The Sheepdogs are an old-school rock and roll revival. Lead-singer Ewan Currie calls his band a group of "old-school, long-haired, rock & roll bad-asses…who sing sweetly." CBC Radio praised the band "[creating] music that manages to be fresh and contemporary while remaining faithful to its old style roots."
They have played at POP Montreal, NXNE, Junofest, the Western Canadian Music Awards, and Canadian Music Week. They have independently released three full-length albums, all of which have charted on Earshot's national monthly top 200 chart, with 2010's Learn & Burn reaching the Top 20.
The Sheepdogs are Ewan Currie (lead vocals & guitar), Leot Hanson (guitar, backing vocals), Ryan Gullen (bass, backing vocals), and Sam Corbett (drums, backing vocals).