For immediate release: April 20, 2011
THE YOUNG THINGS TO PREMIER "All My Friends Are Junkies" VIDEO ON AUDIO PERV
Wednesday, April 20, will see the video premier of The Young Things' "All My Friends Are Junkies" on The Audio Perv.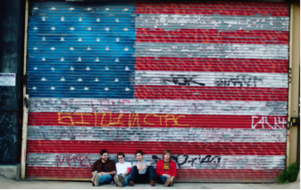 Up  & coming challengers to the throne of Kings of New York City Rock 'n' Roll, The Young Things are out to prove themselves. Following the release of their debut EP, 
…Is The Killer
, the band has created an excellent introductory 
debut video
 for the Monkees-meet-Dr. Feelgood-styled "All My Friends Are Junkies." The video highlights each member of the band (Mikey-lead vocals/rhythm guitar, Josh-lead guitar/vocals, Neil-bass/vocals, Jon-drums, vocals) in the colored blocks of the old electronic game from the eighties, Simon.
Director, Brandon Mikols, came up with the novel concept for the video: "I think I was at one of the live shows, and "…Junkies" was always one of my favorite tunes.  There are mean solos on the track, and plenty of starts and stops.  So I thought about having their live show jazzed up with lighting to reflect that, and featuring each guy in a different colored light.  Then I said, "Fuck it, that's the video.  Four guys. Four colors. Boooooom! Simon!"
The band has paid its dues onstage at such legendary haunts as The Bowery Electric, Pianos, The Knitting Factory and Mercury Lounge, and have also been buzzing about Brooklyn in local spots like Spike Hill, Pete's Candy Store and Cameo Gallery in the ultra-hip section of Williamsburg. Though their soaring guitars and vintage melodies hint at the lighter side of life, their pounding drums, dark lyrics and pure edge still scream with all the spit and grit of their hometown, New York City. Catch them while they're still alive at Pianos on April 23, and at the Bowery Electric on May 19.
"Those that think rock & roll is dead obviously haven't heard of The Young Things." – You Sing I Write
"There's no posing here, just a band playing "Get up, have a beer and shake your ass!" music. The crowds seem to get larger & more energetic with every show. If you like to party & listen to Rock N' Roll this may be the band for you." – Fiddle While You Burn
UPCOMING SHOWS
April 23 – Pianos NYC
May 19 – The Bowery Electric
LINKS