THIS JUST IN: THE DIG JUST KEEP ON DIGGING!
New Dates Confirmed With Beady Eye & Glasvegas!
"Without a doubt, The Dig have released one of the year's best albums"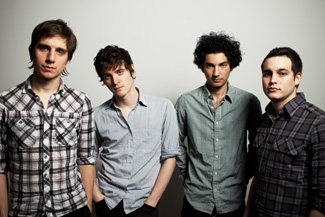 The Dig are very excited to announced yet more tour dates that have literally 

just

been confirmed. The story this time is that they will be opening for Scotland'sGLASVEGAS on four northeastern dates, including New York City. And also, they will be supporting Liam Gallagher's new post-Oasis band, BEADY EYE, on two of their debut American performances. Get tickets immediately! Was it mentioned the Dig are psyched?
May 23 – Bowery Ballroom – New York, NY, USA
May 24 – Black Cat – Washington, DC, USA
May 25 – The Note – West Chester, PA, USA
May 26 – Brighton Music Hall – Allston, MA, USA
June 23 – Webster Hall – NY, NY, USA
June 25 –  TLA – Philadelphia, PA, USA
5/13 Los Angeles – Satellite w/Henry Clay People
5/17 Fort Worth – Lola's w/Fate Lions
5/18 Austin – Emo's w/The Boxing Lesson
5/20 Winston-Salem – Elliott's Revue
5/21 Knoxville – Preservation Pub
5/22 Chapel Hill – The Cave
6/8 New York City – Mercury Lounge w/the Postelles
6/10 Philadelphia – Kung Fu Necktie w/the Postelles
6/11 Washington DC – Red Palace w/the Postelles
6/16 Toronto – NxNE, Dose.ca showcase – The Garrison 
(with Ty Segall, Uncle Bad Touch, USA out of Vietnam, Indian Wars)
6/17 Chicago – Schubas w/the Postelles
7/7 Boston – TT the Bear's w/the Postelles
from their debut album, Electric Toys.