VALENTIGER TO CELEBRATE RECORD STORE DAY WITH VIDEO PREMIER & VINYL GIVEAWAY ON THE VINYL DISTRICT!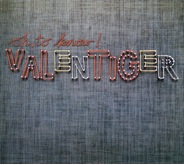 On Wednesday, April 13, Valentiger will be the latest beneficiaries of The Vinyl District's Eleven Weeks of Vinyl Giveaways series leading up to this weekend's Record Store Day celebration. To help celebrate, and to follow up a successful trip down to South By Southwest, the Grand Rapids, MI, natives will be giving away two freshly minted vinyl copies of their latest album, Oh, to Know!, via the official blog of Record Store Day.

Not only will the band be giving away free vinyl, but they'll be premiering their newest video from the album at the same time. "Frozen Dozing" recalls the Replacements at their basement (or garage if you prefer) rocking best. Directed by Valentiger's own Eric Kehoe, it was filmed in the same house where Oh, to Know! was recorded – Stocking Studios in Grand Rapids. One camera, and three takes later, they were done.
Valentiger leans on the time-tested melodies of bygone days, unearthing and reinventing the sounds of the 60s while drawing heavily from contemporary ideals and experiences. The energy of both old and new provides for albums that are rich in homespun warmth, as well as a live show that moves effortlessly from airy rock and roll, to harmony rich folk-rock, to subdued alt-country. With Oh, to Know!, Valentiger comes of age as a group with a resounding air of effortlessness.
LINKS