Yukon Blonde Announces Release of "Fire//Water" EP on Dine Alone Records, Offers First Single for mp3 Download





Prepare for Extensive North American Tour
Download Yukon Blonde's First Single "Fire" at SoundCloud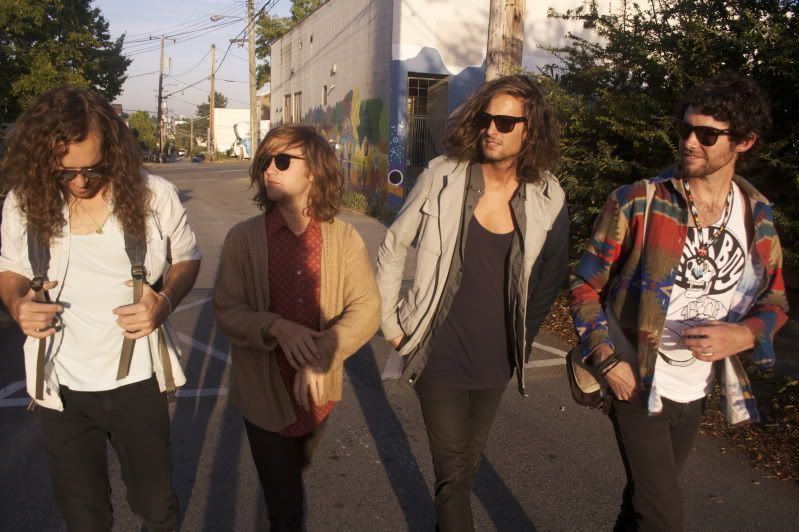 Canadian-based Yukon Blonde has announced the release of their Fire//Water EP on Dine Alone Records (Tokyo Police Club, Neon Indian) out October 11 in the US. Produced by Colin Stewart (Black Mountain, Ladyhawk) the four song follow up to the quartet's Polaris and WCMA award nominated debut LP will be supported on an extensive North American fall tour including over 60 dates where fans can purchase a vinyl copy in either fire orange or water blue.
The signature hook-heavy arrangements and lush "ooh-wah" harmonies that earned Yukon Blonde critical nods for their self-titled 2009 debut have certainly soaked into their latest output, but this EP also marks a transition, foreshadowing an evolving sound for the band as they explore new territory in their songwriting and continue to grow as musicians. Written partially while on the road, and partially while off the road at a cottage in the Comox Valley (BC), the band recorded a total of 15 songs over the course of the summer, and the remaining 11 tracks will be featured on their sophomore LP in early 2012.
Yukon Blonde's career has so far been marked by their on-the-road ethic. Last fall they embarked on a 30+ date tour supporting Good Old War, as well as several headlining runs down each coast. This summer the young B.C. band played at Milwaukee Summerfest with Edward Sharpe & The Magnetic Zeros and the last year and a half has seen them rack up nonstop tour mileage both in North America, and Europe, including festivals such as SXSW, CMJ and Popkomm Festival in Berlin along the way. Be sure to check them out live this fall as they are sure to be in a city near you.
Yukon Blonde Fire//Water Tour Dates
28 Sept – Nelson, BC @ Hume Hotel 29 Sept – Calgary, AB @ Gateway @ SAIT
30 Sept – Lethbridge, AB @ The Slice 01 Oct – Saskatoon, SK @ Amigo's
02 Oct – Winnipeg, MB @ WECC
03 Oct – Minneapolis, MN @ Nomad Pub 04 Oct – Chicago, IL @ Beat Kitchen
06 Oct – Sarnia, ON @ Paddy Flaherty's
07 Oct – London, ON @ Fanshawe College
08 Oct -Windsor, ON @ Capital Theatre 10 Oct – Hamilton, ON @ Casbah
11 Oct – St Catharines, ON @ Mansion House
13 Oct – Guelph, ON @ eBar
14 Oct – Toronto, ON @ Lee's Palace
15 Oct – Kingston, ON @ Grad Club
19 Oct – Corner Brook, NL @ Bar Room
21 Oct – St. John's, NL @ The Ship 25 Oct – Sackville, NB @ George's Roadhouse
26 Oct – Halifax, NS @ Seahorse Tavern
27 Oct -Charlottetown, PE @ Hunters Ale House
28-Oct – Fredericton, NB @ The Capitol
29 Oct – Quebec City, QC @ Le Scanner
31 Oct – Brooklyn, NY @ Rock Shop
01 Nov – Montreal, QC @ Casa Del Popolo
02 Nov – Ottawa, ON @ Ritual
03 Nov – Sudbury, ON @ Townehouse Tavern
04 Nov – Sault Ste. Marie, ON @ Lop Lops
05 Nov – Thunder Bay, ON @ Crocks
07 Nov – Edmonton, AB @ Starlite
10 Nov – Vancouver, BC @ Biltmore
11 Nov – Victoria, BC @ Sugar
15 Nov -Atlanta, GA @ The Earl *
16 Nov – Nashvile, TN @ 3rd & Lindly *
17 Nov -St. Louis, MO @ Off Broadway *
18 Nov – Louisville, KY @ Zanza Bar *
19 Nov – Columbus, OH @ Rumba Café *
21 Nov – Pittsburgh, PA @ Club Café *
22 Nov -Cleveland, OH @ Beachland *
23 Nov – East Lansing, MI @ Mac's Bar *
25 Nov – Chicago, IL @ Panchos *
26 Nov -Milwaukee, WI @ Cactus Club *
28 Nov -Minneapolis, MN @ 7th Ave Entry *
30 Nov – Rockisland, IL @ Huckleberry Pizza *
01 Dec – Ames, IA @ The Maintenance Shop *
02 Dec – Omaha, NE @ Slowdown Jr *
03 Dec – Kansas City, MO @ Riot Room *
04 Dec – Tulsa, OK @ Cain's Ballroom – 2nd Stage *
06 Dec – Little Rock, AR @ Juanita's Cantina *
07 Dec – Dallas, TX @ Double Wide *
08 Dec – Houston, TX @ Fitz Downstairs *
09 Dec – Austin, TX @ Emo's Inside *
11 Dec – Denver, CO @ Larimer Lounge *
13 Dec – Salt Lake City, UT @ Kilby Court *
14 Dec -Boise, ID @ Neurolox *
16 Dec – Spokane, WA @ A Club *
17 Dec – Seattle, WA @ Crocodile *
18 Dec – Portland, OR @ Doug Fir *
21 Dec – San Francisco, CA @ Brick & Mortar *
22 Dec – San Diego, CA @ Soda Bar *
* All US shows after Nov 15 co-headline w/ The Fling